Plants for Birds - Louisiana style!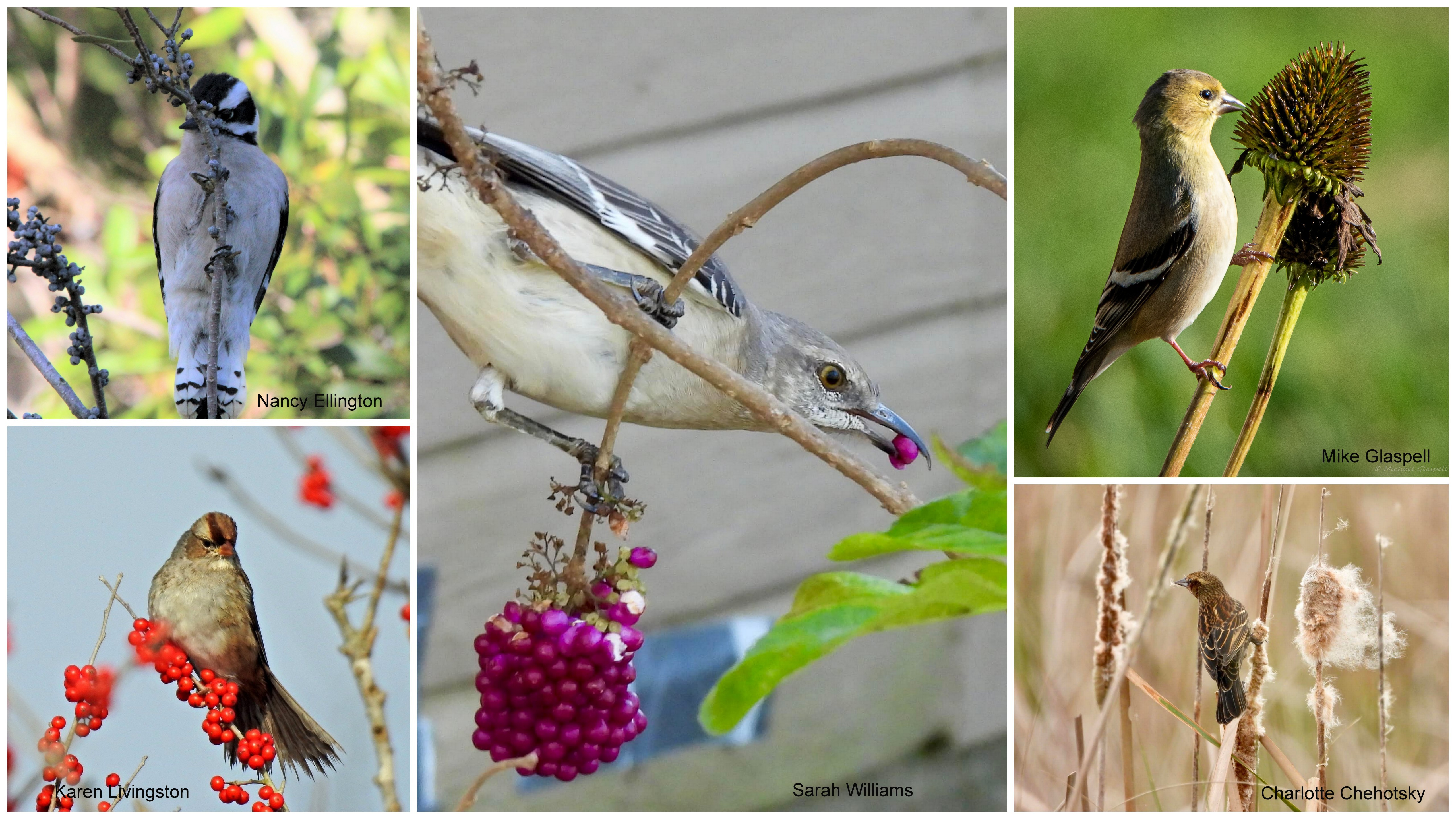 National Audubon currently has a nationwide initiative to encourage all of us to grow more native plants that are good for birds. The logic is that we have removed many of the native plants in our environment, which is stressing food supplies for insects and other organisms, including our native birds. By using native plants in our landscape design we can add back what was taken away and increase biodiversity, making our homes a healthier place for all of us. It's Audubon's goal to have it memberships plant a million native plants for birds!
If you visit www.audubon.org/plantsforbirds and enter your zip code, Audubon will provide a list of plants that are favorable to birds and that are native to your area. Unfortunately, these plants are not always easy to find in nurseries in our area. Below you will find a list of nurseries in south Louisiana, as well as some mail order resources, that will help you find options for purchasing native plants that you can add to your yard and homescapes. (Please note that I'm not including any "big box" stores or hardware stores that carry season plants. They may accidentally carry natives, but they are not a reliable source.)
Retail nurseries that carry native plants
Hilltop Arboretum
www.lsu.edu/hilltop
11855 Highland Road
Baton Rouge, LA 70810
Phone: 225-767-6916
Email: hilltop@lsu.edu
Hilltop Arboretum has what it calls the "Hodge Podge" which is a volunteer nursery area on the premises. Usually unmanned, this nursery features plants that are tagged with names and prices, so it's up to you to know what you're looking for. These are plants that have been propagated or shared by volunteers. Not all of them are native, so you do have to know what you're looking for, but you can often find things here that you can't find anywhere else. Payment is by the honor system... leave your check in the mailbox slot by the parking lot.
Twice a year, Hilltop holds pretty awesome plant sales...one in the spring and one in the fall. People arrive a day ahead to see what's going to be offering and are jostling each other at the starting line the day of the sale. Bring your wagon and have a good idea of what you're going for if it's going to be something in high demand! It's worth it to become a member of Hilltop to get notice of the sales and the programs that Hilltop Arboretum has to offer.
---
Beaver's Abundance Native Nursery and Permaculture Service
Native LA nursery servicing all plant lovers large and small from the neighborhood pollinator/butterfly gardener to the municipal restoration entities looking to restore the land back to its indigenous roots. Look for them on Facebook and Instagram (225) 610-4220
---
Will Garden, LLC
Landscaper and native garden nursery in mid-city Baton Rouge that sells by appointment. Contact Taylor Williams at 504-701-3181 (Retail nursery is planned for late 2022). Check here to find a list of available plants
You can also follow them on Instagram
---
Clegg's Nursery
Baton Rouge
274 North Donmoor
(225) 927-1419
5696 Siegen Lane
(225) 292-9153
10645 Greenwell Springs Road
(225) 275-7006
Denham Springs
31275 Hwy 16
(225) 791-6060
Clegg's does a great amount of business in Baton Rouge and is a fine full service nursery. They don't, however, feature any native plants, per se. That is, you can occasionally find them there, but they will be accidental finds and likely not labeled as natives. That said, Rick Webb, a wholesale grower who specializes in native plants, does sell to Clegg's, so you may occasionally find Louisiana natives here... but you certainly have to know what you're looking for. In my personal experience, it's not likely that the salespeople will have any idea about what is native and what's not.
---
The Urban Naturalist
https://theurbannaturalists.com/
216 Madison St.
Lafayette, LA 70501
337-258-0878
From their facebook page: Plant nursery specializing in heirloom vegetables, old timey flowers, herbs(culinary & medicinal), and natives. We grow things the way they used to. Established in January 2011 by Marcus Descant. The Urban Naturalist is a garden center in Lafayette, LA offering environmentally friendly products & solutions for garden & urban landscapes. Our focus is providing our community with native organic heirloom plants, local and completely renewable pine mulch bales -delivered to your doorstep, natural organic fertilizers, and red wiggler worm starter kits (the best worms for composting)
This nursery features self-serve checkout and you can basically buy plants any time of the day or night!
---
Delta Flora Nursery
https://www.deltafloranativeplants.com/
2710 Touro St.
at the corner of Duels St., near Florida Ave.
4 blocks from Lowe's on Elysian Fields
New Orleans, Louisiana 70119
deltaflora504@gmail.com
from their website: A seasonal retail nursery in New Orleans celebrating the natural beauty of the Gulf Coast.We provide Louisiana native plants & seeds to gardeners, backyard environmentalists, community groups & professionals.
---
The Bug Lady
https://www.nolabuglady.com
Visit Linda at Barber Laboratories
6444 Jefferson Hwy, Harahan, LA 70123
(504) 739-5715
nolabuglady@gmail.com
The Bug Lady specializes in plants for insects, particularly butterflies (and not just monarchs)!
---
Chickadee Natives
Chickadee Natives is a native plant nursery in New Orleans, LA with a focus on local ecotypes, collecting the majority of our seed within 70 miles of New Orleans. https://chickadeenatives.com
---
Acadiana Native Plant Project
While this is not exactly a retail nursery, the Acadiana Native Plant Project sells strictly native plants that they propagate themselves in their own greenhouses. They sell to the public on Tuesdays from 9-12. If you have a large order, you can contact them via their Facebook page to request an appointment.

Check out their website for great info designing with native plants!

https://greauxnative.org/
Teche Farm EcoCampus, 1046 Main Hwy in Arnaudville, LA
---
Other Retail Nurseries
For the following nurseries, finding natives will be accidental. Finding someone at the nursery who knows native plants is possible but you may have to ask around.
---
Louisiana Nursery
13121 Coursey Blvd.
Baton Rouge, LA 70816 US
Phone: 225-756-0008
8680 Perkins Road
Baton Rouge, LA 70810 US
Phone: 225-766-0300
39245 Hwy 42
Prairieville, LA 70769 US
Phone: 225-677-7984
Email: contact@louisiananursery.com
Pretty much a repeat of what I said about Clegg's. Nice nursery, but finding natives will be accidental.
---
Greenhand Nursery
www.facebook.com/GreenhandNursery
11810 Gibbens Rd
Baton Rouge, LA
225-354-9525
---
Ins-N-Outs Nursery
www.facebook.com/diginsnouts
5211 Legion St
St. Francisville, LA 70775
225-635-6952
---
Green Thumb Nursery
www.greenthumbnsy.com
12188 Hwy 22
Ponchatoula, LA 70454
225-294-5089
---
Smith's Nursery
www.smithsnursery.net
19355 Hwy 22 East
Ponchatoula, LA 70454
985-386-8862
---
Straughan Nursery
(no website) 19043 LA-40, Loranger, LA 70446 (985) 878-1860
---
Bantings Nursery
26300 Highway 190
Lacombe, LA 70445
985-882-5550
Email: northshore@bantingsnursery.com
---
Inwood Gardens
www.inwoodgardens.com
1640 Collins Blvd
Covington, LA 70433
---
Garden Spot of Mandeville
2100 N Causeway Blvd
Mandeville, LA 70471
Wholesale Nurseries
You can't buy direct from these companies but you should watch for their wares at Plant and Garden Sales around the state.
Maypop Hill
www.maypophill.com
Email: maypophill@gmail.com
Sells plants at Clinton Louisiana Community Market (first Saturday of each month, as well as LSU Spring Garden Sale and New Orleans Botanical Garden events.
---
Louisiana Growers (Rick and Susan Webb)
www.lanativeplants.com
63279 Lowery Rd
Amite, Louisiana
(985) 747-0510
Email: rick@lanativeplants.com
Sells plants at many of the seasonal plant and garden shows listed below.
---
Willis Farm Nursery
G W Willis, md
www.willisfarm.net
Mail: P O Box 719, Doyline, LA, 71023-0719
Shipping: 3100 Herren Rd, Doyline, LA, 71023
Land: 318-745-3048
Cell: 318-210-4507 (G W Willis)
Fax: 318-745-3246
Email: willisfarmnursery@gmail.com
Holds a retail market Saturday 9-3, January - April & October - November at wholesale prices
Mail Order Sources
Almost Eden
www.almostedenplants.com
1240 Smith Rd
Merryville LA 70653
337-375-2114
Email: john@almostedenplants.com
---
Nativ Nurseries
www.nativnurseries.com
1003 US-45 ALT
West Point, MS 39773
(662) 494-4326
Email form on website
---
Bois D'Arc Gardens (specializing in Louisiana Iris)
www.bois-darc.com
1831 Bull Run Road
Schriever, LA 70395
985-446-2329 or 985-209-2501 or 985- 859-4848
Email: bois@charter.net
---
Louisiana Iris Gardens
www.louisianairisgardens.com
Tully, NY
Contact form on website
Seasonal Plant Sales and Garden Shows
March through October
Pelican Greenhouse @ City Park New Orleans
Plant sale first Saturday of each month. Features many native plants. Email plants@nocp.org for a list of native plants available each month.
---
March
Madisonville Garden Show
Sponsored by the Madisonville Garden Club. Usually first weekend in March. Check with the club for dates: www.facebook.com/Madisonvillegardenclub
Northshore Garden & Plant Sale
Sponsored by St. Tammany Master Gardener Association & LSU Ag Center. Usually third weekend of March in Covington
Crosby Arboretum Spring Native Plant Sale
Usually last weekend in March. Check website calendar for dates: crosbyarboretum.msstate.edu
Baton Rouge Spring Garden Show
Sponsored by LSU Ag Center. Usually middle of March at Parker Coliseum on the LSU Baton Rouge campus.
Potted Louisiana Iris Sale Sponsored by Greater New Orleans Iris Society. Check website for details
---
April
Audubon Delta Native Plant Sale April 9, 2022 (order online and pickup in Baton Rouge). More info to come
Festival des Fleurs
Blackham Coliseum, Lafayette, LA. Usually first weekend of April.
New Orleans Spring Garden Show
New Orleans Botanical Gardens usually second weekend of April
---
May
Pelican Park, Recreation District # 1 in Mandeville, LA is hosting its first Native Plant and Wildlife Festival on Saturday, May 7, 2022 from 9 am – 1 pm.
Sunset Herbfest May 7, 2022
June
Daylily Festival & Garden Show
Magdalen Square, Abbeville, LA. Usually first weekend of June
---
September
Folsom Fall Garden Festival
Midway Church Park, Folsom, LA. End of September.
---
October
New Orleans Fall Garden Show
This event is sponsored by the New Orleans Botanical Garden, New Orleans City Park, the New Orleans Botanical Garden Foundation, and Friends of City Park.
See more at: http://neworleanscitypark.com/events/fall-garden-festival. Usually first weekend of October.
Bare root rhizome Louisiana Iris Sale at Longue Vue House and Gardens Sponsored by Greater New Orleans Iris Society. Check website for details
Links to other websites and resources
Louisiana Native Plant Society
www.lnps.org
---
Wild Ones - Greater Baton Rouge Chapter
https://greaterbatonrouge.wildones.org/
Capital Area Native Plant Society
canps.weebly.com
Acadiana Native Plant Project
https://greauxnative.org/
---
New Orleans Native Plant Initiative
https://www.npi-gno.org/
---
Society for Louisiana Iris
www.louisianas.org
---
PlantNative.org
www.plantnative.org
---